Saturday, February 14, 2009
MOVED!
I've Moved! You can find my new knit blog @ TUMBLR!
Labels: moved
posted by Penelope Caerphilly @ 7:26 PM

Wednesday, December 24, 2008
Super Last Minute Gift Ideas
Because I'm a huge procrastinator, I'm still working down to the wire here with my Christmas presents. I had decided today to try to whip up some fast ski hats for my brothers, since we're going on a family ski trip this weekend. The yarn I had grabbed at the store didn't mix well with the pattern I was halfway through, so I frogged the hats and decided to make them some quick ipod cases to match the hat's I will eventually make them instead. Now, they're not intricate or even very pretty, but the point of me sharing the pattern is that they only take about 15-20 minutes to make - a super huge bonus for those of us serious procrastinators. Talk about last minute gifts!

So if you still have some scrap yarn left over and you still have no clue what to make for your six thousand and one relatives, make a few of these in the car on the way to Christmas dinner! They fit iPods, cell phones, condoms, birth control packets, coins, small makeup items (lipstick, eyeshadow, etc), cameras, and various other random things.




Materials:
Size 9 DPNs
Any Bulky weight yarn, I used Lion Brand Jiffy & Wool-Ease Thick & Quick in Blue Denim and Ozarks
Alternative yarn: Hold two strands of worsted/aran weight yarn together to get the chunky/bulky effect and speed. This opens up heaps of opportunity for playing with color!
Gauge: 3 st & 4 row per 1 inch, though it's not entirely necessary in this case

Pattern:

CO 16-18 st. depending on your yarn. Divide evenly over DPNs.

Rows 1-3: *K2, P2* to end of round
Next Row: Knit in St st for 4 inches.

BO with 3 needle bind off.

Unfortunately, I really had to rush, but you could jazz it up with bobble stitches or cables, or use the rib stitch for the whole thing. Enjoy!

Labels: case, cell phone, ipod, pattern, quick knit
posted by Penelope Caerphilly @ 10:36 PM

Saturday, November 15, 2008
Baby Showers!
I'm so excited that my best friend's sister is having her baby soon! The shower is at the end of this month and I'm making the baby yeti jacket, matching monster booties, and Candi Jensen's suede booties! So far I only have the back of the baby jacket done. I'm going to finish (hopefully) the jacket and the monster booties tomorrow and Monday.

I really want to make her the rock star baby blanket as well, since she's already named the baby, but I don't think I'd be able to finish a blanket by the end of the month. Plus, he has like 6 middle names lol. And no last name. And the pattern looks weird with only two initials instead of three. Maybe I'll make it for him for his birthday or something. That will give me until January.
posted by Penelope Caerphilly @ 10:28 PM

Sunday, November 9, 2008
Pattern: Diamond Days
Diamond Days

Here on Ravelry.
Type: Mittens/Gloves
Price: Free

Includes: Charts, pattern, pictures
Preview: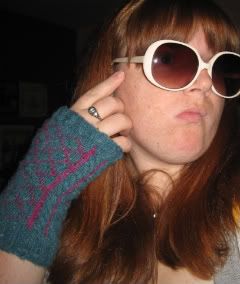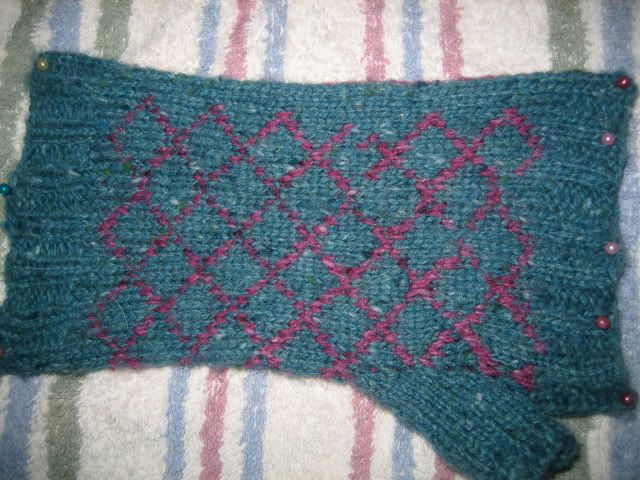 Yarn: 1 Ball Jo Sharp Silkroad DK Tweed in Resonate, 1 Ball Jo Sharp Silkroad DK Tweed in Treasure
Gauge: 8st & 10 rows = 1" in St st on US 3 needles

Download Pattern

Labels: gloves, my designs, pattern
posted by Penelope Caerphilly @ 6:40 PM

Welcome
Welcome! This is where I'll be writing about all of my designs and squeeing girlishly over anything fiber-related.

Labels: welcome
posted by Penelope Caerphilly @ 6:33 PM

The girlish squeeing of a fiber-obsessed fiberaffecionado college student named Mary. Oh, and her designs!
Fiber Obsessed
Name: Penelope Caerphilly
Home: Killarney, Co. Kerry, Ireland
About Me:
Sillies. I has them.
Second Year; Slytherin; Charms Addict; Irish

Srs Bisns
Mary; 19; Slytherpuff; knitter; beader; sewer; spinner; fiber afficionado; green; yellow; addicted to yarn; addicted to knitting; love of all things vintage, especially pin-up girls; irish-english-italian-scottish-polish; NJ born n' raised; feisty red head; Zacharias Smith, Minerva McGonagall, Narcissa Malfoy, and Andromeda Black; H/D fan

To friend me on Ravelry go here and to friend me on LiveJournal go here!
See my complete profile
Meez
My Designs
Donate
If you're in the giving mood, send me a small donation. Donations go towards my charity projects (such as the dog sweaters I knit for the local animal rescue I work for) and towards supplies for new designs!
Links
Swaps
Where to find me
Wish List
In no particular order, a list of trivial and non-trivial things that make me happy. Let's call it a wishlist:
Knit Picks Options Nickel plated needles size 8
Knit Picks Nickel Plated circular needles
Tea; I love sweet teas like chamomille, earl grey, ginger, etc
Pens; I like cool pens, I don't know why, I just do. I steal all of the good ones from the office I work at haha!
ANYTHING DISNEY. Especially Alice in Wonderland (specifically Alice, Mad Hatter, or Cheshire Cat); Beauty and the Beast; Little Mermaid; Sleeping Beauty; Cars; Wall-E; Eeyore or Tigger
Anything VINTAGE, especially from the 40s and 50s.
Anything to do with Audrey Hepburn, the woman is my idol!! Breakfast at Tiffany's is quite possibly the best movie ever made!
Penguins, Elephants, Otters, Badgers, Snakes, and Lions make me happy
I love patterns. Plaid, polka dots, vintage victorian flowery patterns, stripes, etc
Imagination sock yarn. [ unicorn, mermaid lagoon, pixie dust ]
Jewelry. Whether it's handmade, or from a place like Claires. I love to accessorize! I love necklaces with small and large pendants, especially Fleur de lis, Elephants, Birds (Owls, Sparrows), and Skeleton Keys
Photography. I'm a huuuuuuge fan of photography. I love stock photos.
Art! I love art as much as I love photography! You can see my DeviantART page to get a feel for the sort of styles I like!
Anything cute that has to do with sushi! I collect chopsticks :3
Anything to do with Pirates! ARRR!!
Music! I love discovering new music! Make me a mix CD and I will love you! Right now I'm in a moody girl music mood. I have a playlist with Taylor Swift, Erin Mccarley, and Demi Lovato. If you want to know what's in my iTunes, just ask!
Stationary / Stock / Matte cards
Nailpolish!
Bodywash / Hand lotions / Perfumes / Loufas / etc
Anything to do with the seasons. Winter and fall are my favorites, but I love having random things about them all!
Headbands!
A sock blocker! I've finally started knitting socks, and I don't have anything to block them on! [ medium sized 7-8, if that matters ]